---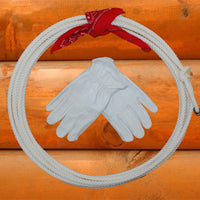 "Ropers ready?  Ready, rope!"
Roping at TVRC is always a fun and exciting event. Each summer, campers and staffers compete for the title of roping champions! Get your rope early and be sure to practice throughout the year - those rodeo competitions will be here before you know it!
All orders include a new King Ropes 3/8 scant x 30 ft lariat, leather roping gloves and bandanna. Just select the appropriate glove size!